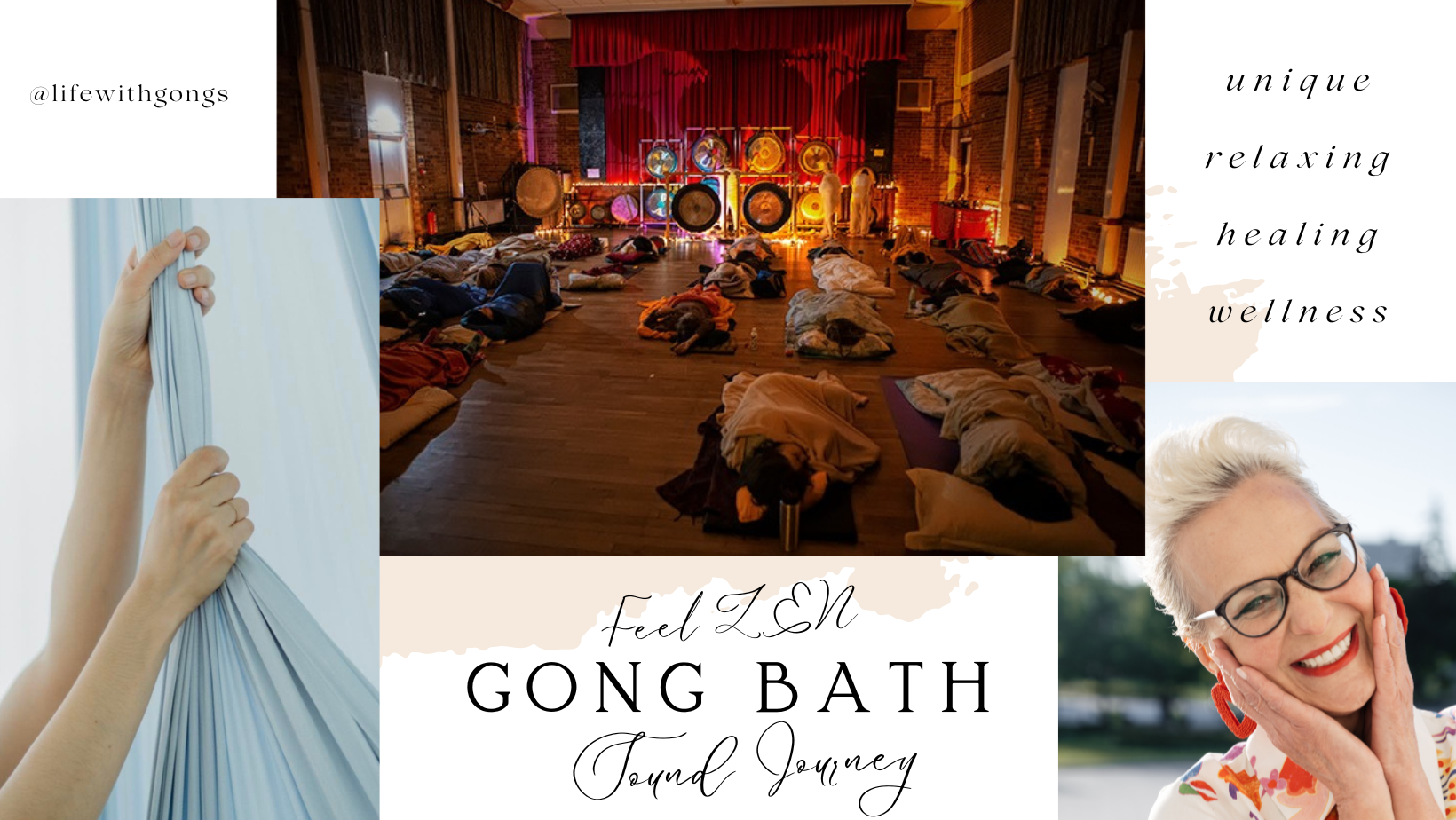 If you would like to see more events than on this website , please click  HERE 
Their high skills and experience allow them to provide a wide range of gong and sound journey events, such as 
GROUP SESSIONS
 Monthly AWAKENING GONG BATH with 14 Gongs, 45″ SHAMANIC DRUM, Voice Healing – (1st Sunday)
 Monthly DEEP CLEANSING & HEALING CEREMONY IN THE YURT – (3rd Friday)
 Monthly SACRED CRYSTAL SOUND JOURNEY & CACAO CEREMONY – (3rd Sunday)
RELAXING GONG BATH IN COCOONS/HAMMOCKS

ALL NIGHT GONG BATH – GONG PUJA
WORKSHOPS 
SESSIONS 1-1
GONG BATH or CRYSTAL SOUND JOURNEY
MASSAGE WITH SINGING BOWLS
DEEP HEALING WITH ENERGY & GONG
REIKI HEALING
1- 3h COMBINED SESSIONS 
(sacred cacao ceremony/sound session/deep healing ceremony/ REIKI  healing / an attachments removal/spiritual healing/energy cleansing/ancestors wisdom/relationship healing session/karmic healing/tarot/ Akashic Records Reading/holistic treatments etc )
Beata & Jarek believe that we all re unique and have individual needs and therefore tailor their sessions specifically for each client
CORPORATIVE/WORKPLACE & PARTY & RETREAT
Contact us to arrange a custom session for you, your team or workplace
Photos by Agnieszka Czabak IG @capture_and_glow and Marek Ruciński @marulla_photography
If you would like to see more events than on this website , please click  HERE 
CHANNELLED HEALING POWER OF OUR GONGS

50″  Sound Creation Earth Gong, Tribble and Magnificent
will connect negative with positive within us and will harmonise it.
 Where people are afraid and feel ashamed of their dark side, there finally will be reunion of their bright and dark side. After that people will be balanced. 
Because in people is as much good as much bad, therefore they need to make choices everyday. And often people are ashamed of this what is bad within them. 
People are ashamed of their own emotions, of wanting something, of their desires etc… therefore they are isolating from their dark side, but the dark side should be accepted and harmonised with bright side. Both sides should cooperate together like yin and yang.
Sound Creation gong will harmonise past with the future, will place us on the right pathway for now. Our thoughts will be more volatile without our ego. 

40″ Sri Yantra (OM) Gong, Awakening Gong
Beata's hands are always burning when she plays on it.
 The sound and vibrations of this Great Awakener pushes energy blockages (like a plumber) in people's lives who stacked, or they move in wrong direction. 
This gong will invite you to open the door to your deep awakening process.

40″ Uranus Gong
Will redirect those people to the right pathway, it will give them the sense of belonging and allow them to walk better through their life.
The sound and vibrations of this Great Awakener allows people to find themselves in the best possible way to fulfil their life purpose.
When Beata played on the second gong, just a few minutes only, she felt pain in her heart.
This gong works like a explosion with sudden liberation, but shhh…
Meet our Uranus and learn about his healing power by listening  a wonderful lecture of his previous owner – Healer Mark Swan


38″ Earth Gong
will help us with grounding following the healing process

38″ Sun Gong
will bring deep transformation in a healing process

36″ Pluto Gong
will help to balance sexual energy, earthy (with spiritual things on energy level – similar work to chakra balancing). This gong has a power to "turn a copper into gold". Pluto is very good to prepare the person to go on other side of the rainbow. 
Be open for healing, resistance will slow down process of awakening".
Meet our Pluto and learn about his healing power by listening  a wonderful lecture of his previous owner – Healer Mark Swan

36″ Sedna Gong
fixing old pattern, our mistakes, our wrongs that we have done to someone. It will help us forgive ourselves, when we carry an inner guilt and allow us to forget what we are not proud of.

36″ Cosmo Gong – Air Element, Tone of Life
his unique sound and frequency will help you with new ideas, new projects and new things. It will help you ENTER A NEW LIFE PATH and REMOVE any DOUBTS related to it 

30″ Chiron Gong
A healer. Chiron heals at 3 levels body, mind and soul. Not only does he remove diseases and ailments, but he also goes deeper to the root cause of the issue, which might concern previous lives. He removes these roots so that you could fully experience your present life.
Additionally, Chiron is a gong helpin gpeople with their life lessons is if you want Chiron's assistance. 
So, if y ou know what your life lesson is, you may count on Chiron. 
He might increase your karma, but you may alsko have to experienice and learn a lesson yourself. No one else will do it for you.
Chiron also call on our spiritual guieds to connect with us.

30″ Nibiru Gong
All non-physical issues, all those issues which are physical too but are difficult to recognise. 
Nibiru repairing and transforms things so that they become as they should be.  Nibiru is to repair it at all 3 levels: body, mind and soul.
Physical, non-physical and a common connection of the level of the life.

Each gong will work accordingly to its's role, at the same time cooperating with others. Each of them will work in a different of manner and the gongs connected to others will do extra work.