Life with Gongs is made with love and passion for these spectacular instruments like no other
Gongs play us, we don't play Gongs!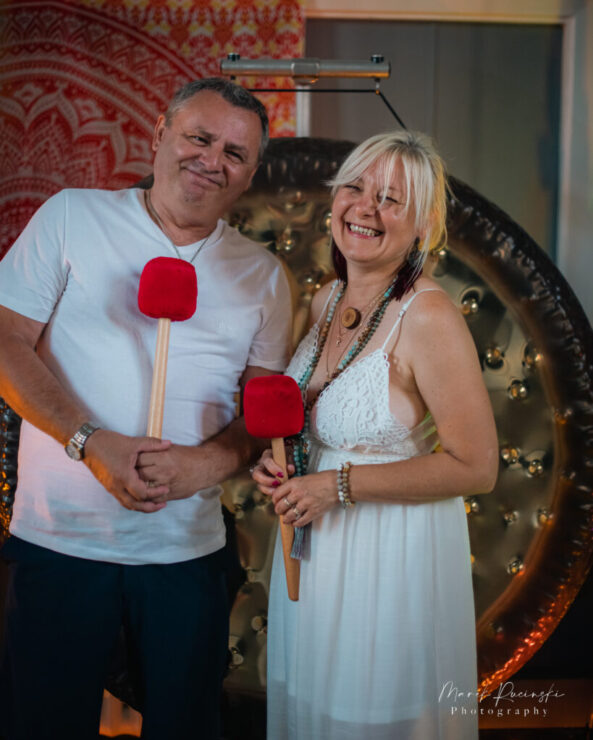 Beata Dzwigol is a Gong and Reiki Master Teacher, Awaken Soul guided by the Source, Akashic Records Practitioner, Intuitive Spiritual Healer, The New Earth Goddess Temple FounderTM,  Movement Meditation (DANCEmandala) & Cacao Ceremony Facilitator., and Holistic Therapist. 
 She works closely with her spiritual guides to bring the body back into balance and assist in a person's soul path and growth by drawing on her Akashic Record knowledge.
Jarek Dzwigol is a powerful Gong and Reiki Master Teacher, Spiritual Healer, Angel Practitioner and an excellent Tarot Reader.  
Jarek is able to perceive energy fields surrounding the bodies of others, and can determine from the condition of the aura, the various issues which may be affecting the person. These issues may manifest as either spiritual, physical or mental in nature.  By drawing on various methodologies, he is able to restore the aura, bringing great relief to the individual.
 Beata and Jarek are Soul Mates and they are blessed to share their similar passion and gifts with others. They have been playing gongs since 2012, but as they say, "The gongs play us", with great relaxing and healing effect. This allow them to tailor each session to the needs attendees and one gong bath is never the same as another.  
 They became Gong Master Teachers many years ago and they run they own Accredited Gong Player Training in Surrey.  
Here you can learn how to play gongs profoundly in a spiritual way and they have given birth to many talented gong students who go on to play gongs and other instruments professionally.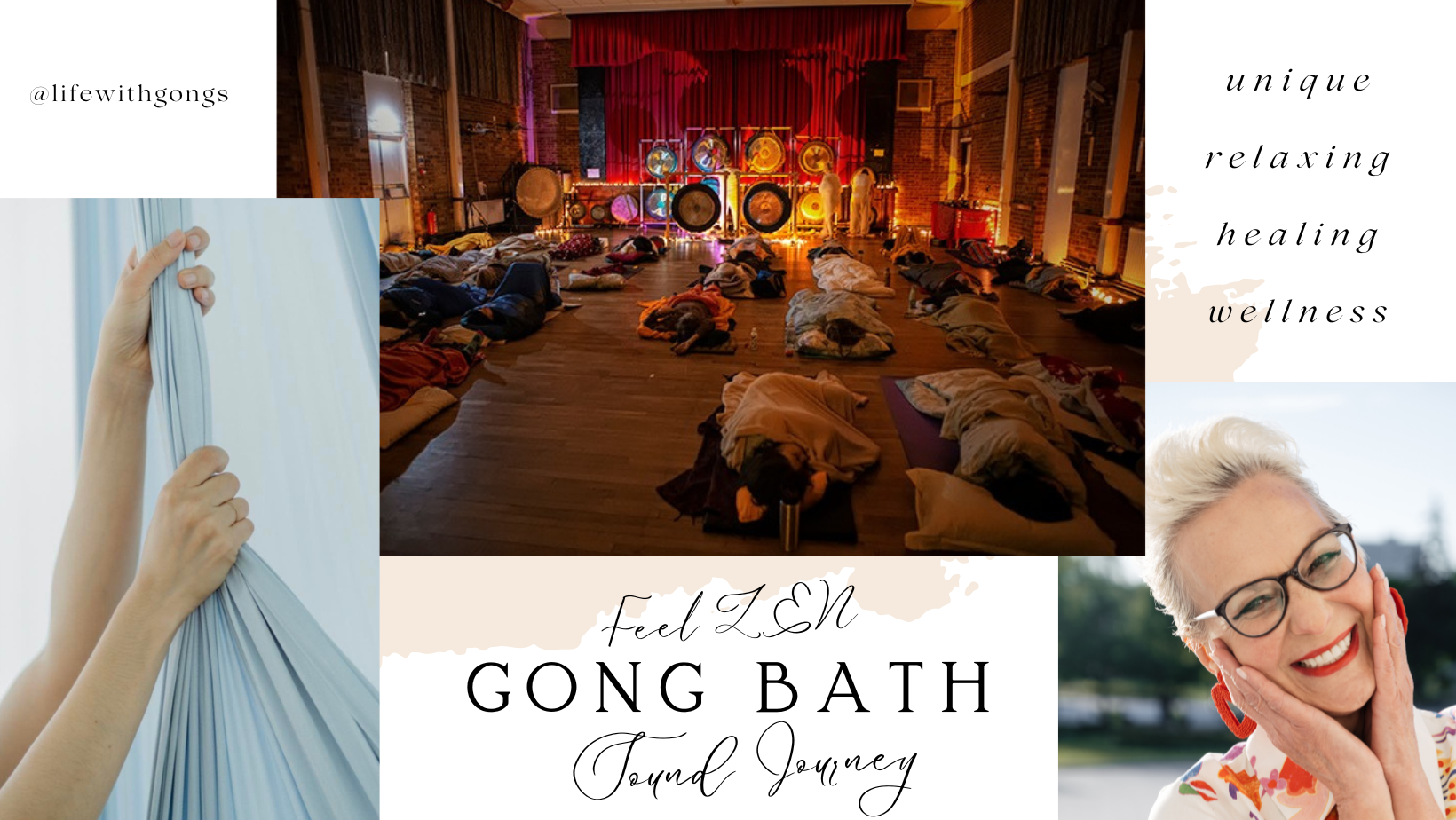 Beata's & Jarek's journey with Gongs started in 2010 in Poland. At this time they met a couple who kindly invited them for a cup of coffee, chat and shared their passion with them.  Jarek remembers two BIG GONGS hanging on stand in the lunchroom. The man asked Jarek to stand close to the gong. 
With one single strike on the gong by him, Jarek lost his soul to this splendid instrument. Jarek knew from this moment that he will play Gongs too. 
In 2012 Jarek attended his first Gong Master training run by Tom Soltron and Don Conreaux. Ten days of training changed his life…of course for better.  You can't believe their first gong was 20″ wind gong! 
Once they bought 2 more gongs and some singing bowls, their hired a hall in Old Woking Community Centre in Surrey, UK and started their really small sessions, slowly spreading the power of the healing benefits of the gong baths.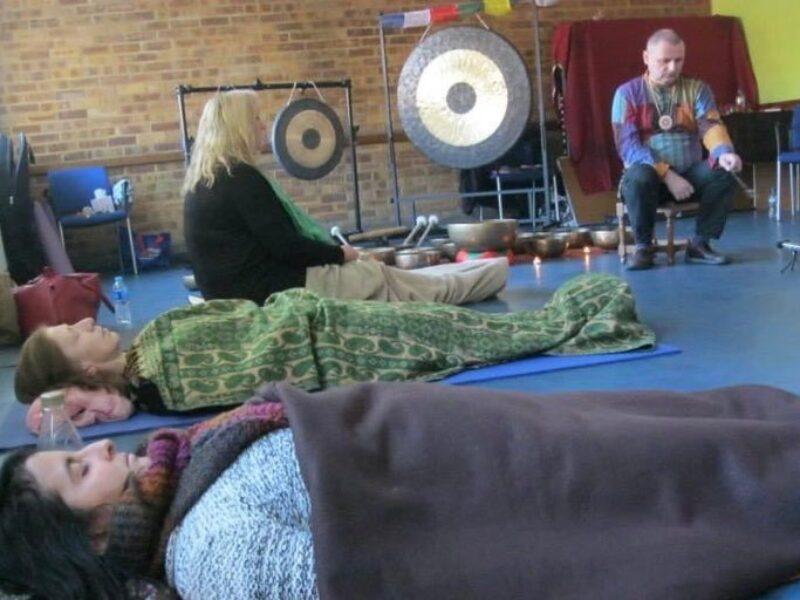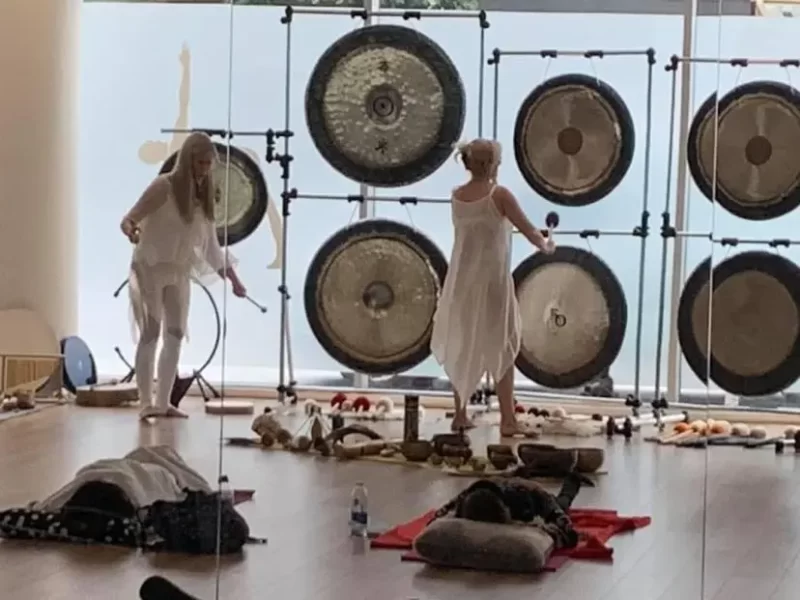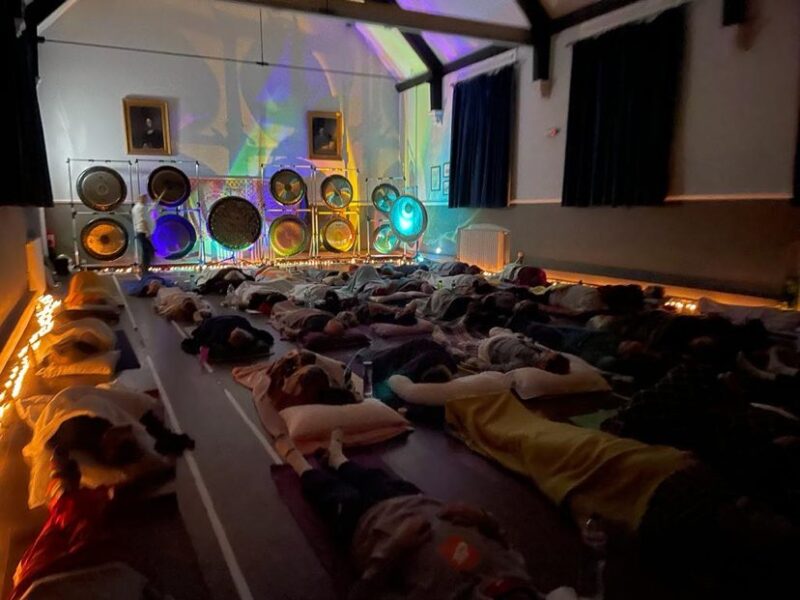 Jarek decided that he needed a helper!, so he convinced Beata that they could do better sessions and she could start her journey by playing different instruments and singing bowls. He start teaching her gong strokes, how to play and soon they both played together. Additionally in 2015 instead to go on honeymoon they both decided to go on Gong Master training!
This was course run by Aidan McIntyre and Don Conreaux and ever since Beata's & Jarek's gong playing moved into higher realms and became part of their lives. Over the years they were buying more and more gongs, it seems like a kind of healthy but very expensive hobby and passion.
One of their BIGGEST event is  
awakening gong bath 
(double session) where you can 
Allow yourself to be embraced with love, and healing of the sacred sound of The Universe created by 50″ Sound Creation Earth, 40″ Sri Yantra (OM) and Uranus Gong, 36″ Cosmo Gong, plus minimum of 10 other POWERFUL GONGS, 45″ Shamanic Drum, Singing Bowls, Eagle Feathers and other divine instruments, Voice healing and UNCONDITIONAL LOVE"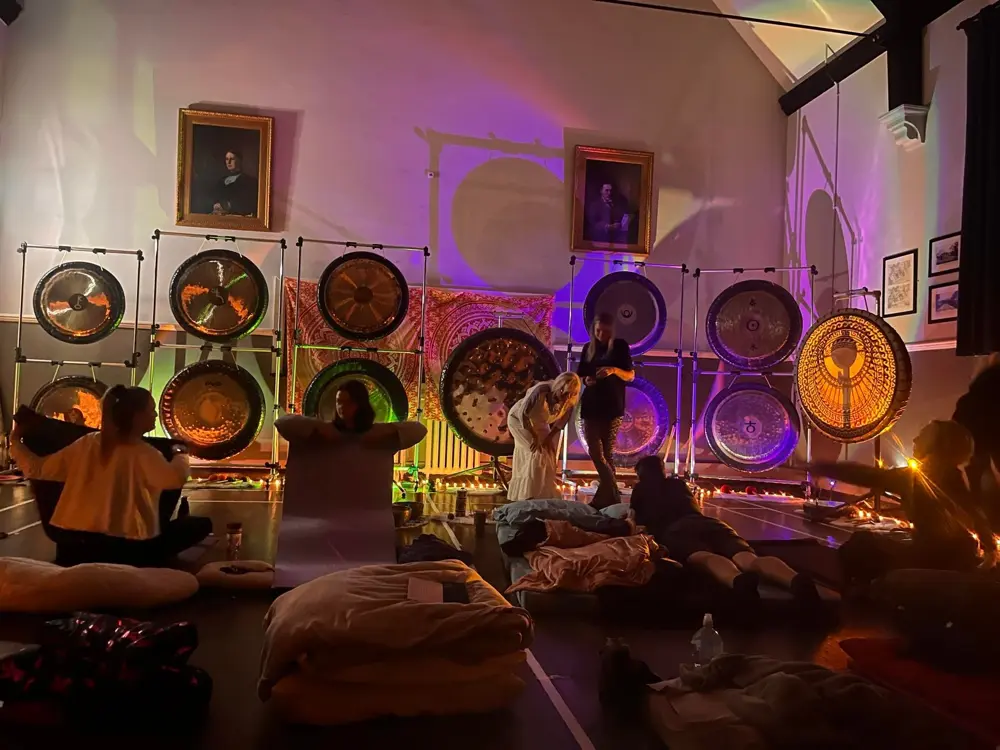 Beata & Jarek play on regular bases in various places in Surrey and sometimes in London.
They brining lots of healing, happiness and relaxation to others lives. There is many life changing stories with gongs and people who attend Beata's & Jarek's sessions.  Some of the testimonials you can see below. 
Gongs are their lives!